De huidige coronacrisis brengt een hele nieuwe benadering van 'werken aan' en 'samenwerken met' naar voren. Massaal thuiswerken en videoconferences, maar ook oplossingen om op afstand samen te werken hebben een vlucht genomen aan de inzet van cloud gebaseerde diensten. Ook qua beleidskeuzes is er een opvallende ontwikkeling gaande.
Zo wordt in de DHPA en HPE Cloud Adoptie Monitor sinds voorjaar 2019 gevraagd aan organisaties of er sprake is van een zogenaamd 'cloud first' beleid. Waarmee bedoeld wordt dat men bij keuzes op het gebied van IT altijd eerst kijkt naar de mogelijke oplossingen in de cloud. En opvallend genoeg is het deel van de organisaties met zo'n 'cloud first' opstelling aan het afnemen. En dat is bijzonder te noemen aangezien cloud nog nooit dergelijke hoge marktpenetraties liet zien als dit jaar.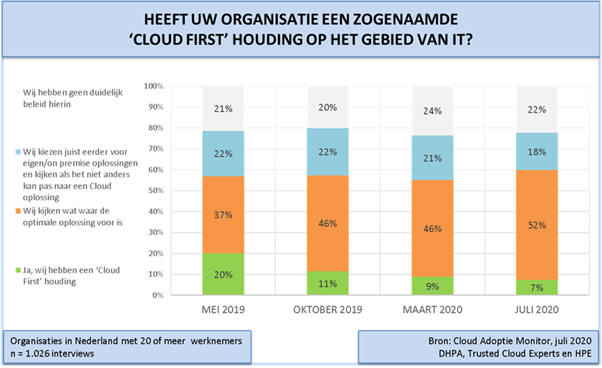 Verder is ook het aantal bedrijven en organisaties die een voorkeur voor on premise oplossingen heeft licht aan het afnemen. Daarentegen neemt het aantal dat kijkt wat de optimale oplossing is juist duidelijk toe. Omdat cloud gebaseerde oplossingen dus duidelijk in de lift zitten is de conclusie dat deze optimale oplossing steeds vaker een cloud gebaseerde oplossing is. We kunnen dus concluderen dat cloud het 'nieuwe normaal' aan het worden is.
Er zijn echter meer tendensen die deze richting uit wijzen. Zo is voor veel organisaties het gebruik belangrijker aan het worden dan het bezit, wanneer het op IT en daarmee digitalisering van processen aankomt. Betaling naar gebruik heeft de voorkeur op (zware) investeringen vooraf. De vanzelfsprekendheid van het altijd tot de beschikking hebben van de meest actuele versie van systemen en applicaties zonder daarbij hinder te hebben van patch of update rondes (continuous delivery) past in de benadering waar cloud leveranciers voor staan.
Het beheer van al die facetten van de IT organisatie (applicaties, netwerk, ondersteunende systemen en werkplekken) is ook een activiteit die al vaak niet meer tot de kern wordt gerekend van wat bedrijven of instellingen doen. Men besteedt dit meer en meer uit. Ook dit werkt een groei van het gebruik van cloud gebaseerde diensten in de hand.